Bitcoin is the largest cryptocurrency in the town. A couple of months ago, it reached its all-time high value of $63,000. After a few days of this surge, Bitcoin began to fall precipitously. It wasn't just a market fluctuation brought on by market volatility. The Bitcoin drop rate was about 50% of its highest value, and it was said to be the largest Bitcoin drop ever. However, this has had an impact on the entire cryptocurrency industry, not just Bitcoin. So, what is bitcoin's future after this crisis? Will it drop to a bear market? Let's discuss it within this context.
The Big story behind the Bitcoin Drop.
According to many investors and experts, Tesla CEO, Elon Musk had a significant impact on the crisis. In fact, it carries more weight than a general comment." You can now buy a Tesla with Bitcoin," Elon had tweeted on 24th May 2021. Both the Tesla and Bitcoin industries have soared as a result of this tweet. Even, Tesla gained more and more profit through this Tesla-Bitcoin companionship. Many investors were inspired by Bitcoin's price rise, and a slew of new investors began to enter the fray.
However, everything went wrong with one of Elon Musk's other tweets. According to Elon, "Tesla has suspended vehicle purchasing using Bitcoin. We are concerned about the rapidly increasing use of fossil fuels for Bitcoin mining and transactions, especially coal, which has the worst emissions of any fuel. Cryptocurrency is a good idea on many levels, and we believe it has a promising future, but this cannot come at a great cost to the environment. Tesla will not be selling any Bitcoin, and we intend to use it for transactions with more sustainable energy. We are also looking at other cryptocurrencies that use less than 1% of Bitcoin's energy/transactions." From the immediate next moment after this tweet, the crash began.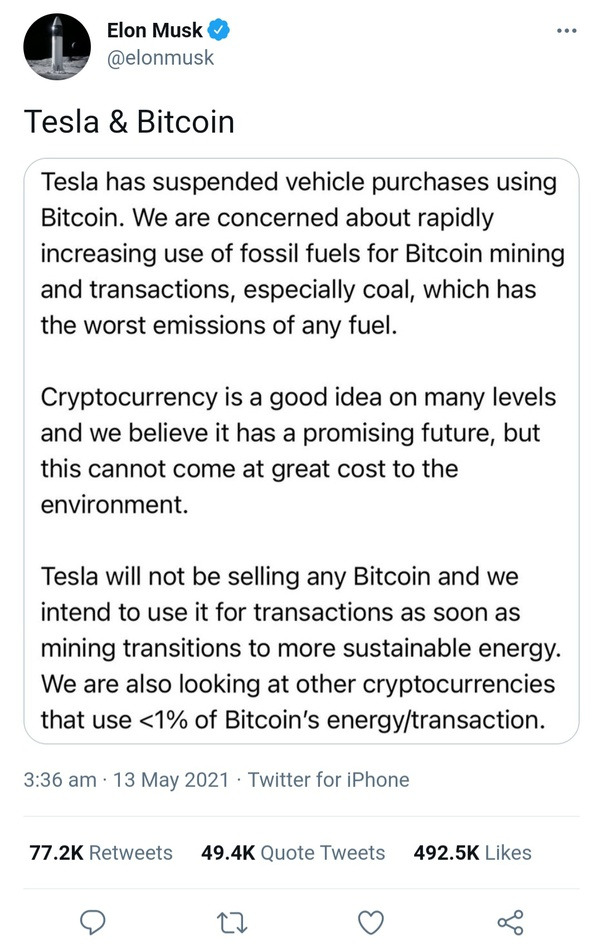 Will Bitcoin enter into a bear market?
The main question now is whether bitcoin will recover or enter a bear market. Bear Market is a term used to represent a market that has experienced prolonged (4-5 years) price reductions. It usually refers to a situation where stock values have fallen 20% or more from recent highs due to widespread pessimism and poor investor sentiment.
The present time gap following the recent Bitcoin collapse is insufficient to have a precise understanding of the major topic of this conversation. However, bitcoin has shown some signs of recovery as of today. At the very least, if this recovery rate continues, bitcoin will avoid an unfortunate down market. Since external influences also impact Bitcoin's future, it is better to have more time to get an accurate forecast of the future of Bitcoin.
The above discussion is neither financial advice nor financial recommendation. It is a basic study on cryptocurrency which is done based on resource sources. Therefore, our team accepts no responsibility or liability for any predictions/decisions you make in the industry.