This post focuses on how you can use Photoshop to add unremovable watermark to your images. If you are series about protecting your photo from thefts, this is the method you need to use. No one will able to patch your images.
I have posted another method to add watermark to images using Photoshop earlier this month (Read: Creating and Adding Watermark to an Image with Photoshop). The deference between these two methods is that this is the most advanced way of adding a watermark. Once added it's impossible to get rid of. While previous method is more suitable for adding watermark to thousands of images in short time period. This method prefers for fewer images. It'll take days to add watermark to several thousand images with this method.
So, let's get started. First open image you want to add watermark on Photoshop. Unlike previous method, we'll work directly on image this time. So no brushes involved.
First make a new text layer by clicking text icon on the tools panel. I prefer this watermark right middle of the image. But you can use it anywhere on the image. After selecting text icon, click image where you want watermark to appear. Then type whatever text you want as your watermark. I'll type "Watermark" as I did on previous tutorial. And make sure your text color is set to white or it won't work properly.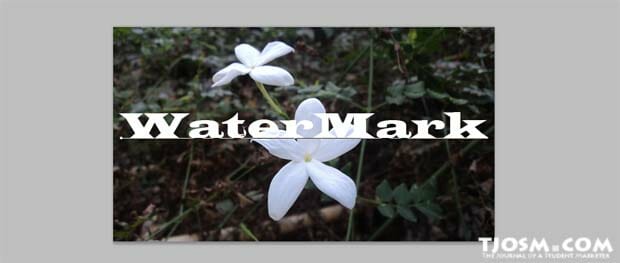 Now double click on the text layer you just added from the layers panel on the right side. A popup window will open. Select "ËœDrop shadow' from the list on left side. Change distance to zero. Next select "ËœBevel and Emboss' and make sure style is set to "Ëœinner bevel'. We are finished with text layer styling; Hit "ËœOK' to confirm changes.

Now it's time to make it look like an actual watermark. To do so we need to play with fill value. Go ahead and change fill to 30%. Fill configurations also located at layers panel on the right side. My recommended value for fill is 30%. But you can increase it as you prefer. Anything below 30 is not recommended as it may be a weak watermark.
Then the opacity, I prefer it 50% or more. But feel free to play with these settings as you prefer. I have set it to 75% on this occasion.
That's all you need to do. Now you have a solid watermark on your image. You can see final watermarked image at the top of this page. As you can see it doesn't affect the picture too much and doesn't get in the way, but yet it does have a transparent watermark over it. And it's much more difficult to get rid of than other method.